IHG signs agreement with Al Arabiya Real Estate Company for Staybridge Suites in Kuwait
IHG signs agreement with Al Arabiya Real Estate Company for Staybridge Suites in Kuwait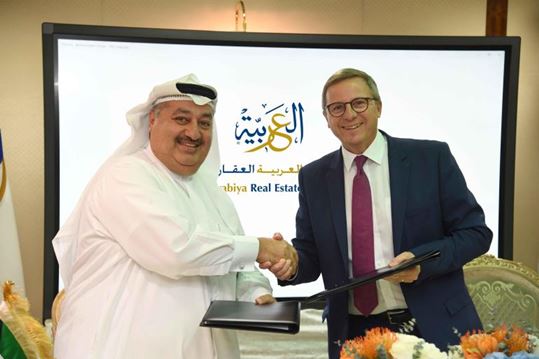 Signing marks the brand's debut in the country.
IHG® (InterContinental Hotels Group), one of the world's leading hotel companies, has signed a management agreement with the Al Arabiya Real Estate Company, owned by the leading Kuwaiti conglomerate, The Bukhamseen Group to debut Staybridge Suites in Kuwait, with the development of Staybridge® Suites Kuwait Salmiya. The new hotel is due to open in January 2022 and will add to IHG's growing portfolio in the Middle East.
Located in Salmiya, close to the commercial and upscale residential blocks beside the Persian Gulf coastline, the 120-keys Staybridge® Suites Kuwait Salmiya will offer long-stay guests a choice of one-bedroom and two-bedroom suites. The modern serviced apartments will be stylishly designed and furnished, featuring separate living and working areas, fully equipped kitchens, state-of-the-art entertainment systems and free WiFi. Guests staying at the hotel will have easy access to business areas such as downtown where major banks and financial institutions are located, as well as tourist attractions such as the Marine Museum, Shaab Leisure Centre Park and a variety of shopping malls and restaurants. With the modern-day corporate traveller in mind, Staybridge Suites Salmiya will offer facilities such as an on-site fitness centre so guests can maintain their exercise regimen and a swimming pool for a refreshing dip after a long day.
Pascal Gauvin, Managing Director, India, Middle East & Africa, IHG said: "We are delighted to partner with Al Arabiya Real Estate Company, owned by The Bukhamseen Group to debut Staybridge Suites in Kuwait. The Bukhamseen Group has been one of our most valued partners in the Middle East since we signed one of our first Holiday Inn hotels in the region with them more than 40 years ago. We are excited to be working even more closely together to expand our footprint in Kuwait and introduce Staybridge Suites, to cater to the demands of extended stay travellers. The brand is known to offer comfort, convenience, and a sense of community so guests can feel at home while they are on the road. We look forward to opening the doors of Staybridge® Suites Kuwait Salmiya and welcoming our guests in 2022."
Dr. Emad Jawad Bukhamseen, Chairman of Al Arabiya Real Estate Company added: "Travel and tourism is a fast-emerging industry in Kuwait, and the sector is experiencing a consistent flow of business and leisure travellers, from across the globe. With its excellent location and unique offering, we are confident that Staybridge Suites Kuwait Salmiya will be the natural choice for visitors looking for home away from home experience. We are proud to build our alliance with IHG to further hotel development in Kuwait and we are confident that our venture together will be a success."
In 2017, IHG and Bukhamseem Group signed an agreement that grants Bukhamseem Group a country wide-exclusivity (Kuwait), for a 10-year term and covers six IHG brands, including InterContinental Hotels and Resorts, Crowne Plaza, Holiday Inn, Holiday Inn Resort, Holiday Inn Express and Staybridge Suites.